MONOGRAMS:
See Your Name in Lights on the Dance Floor or Wall!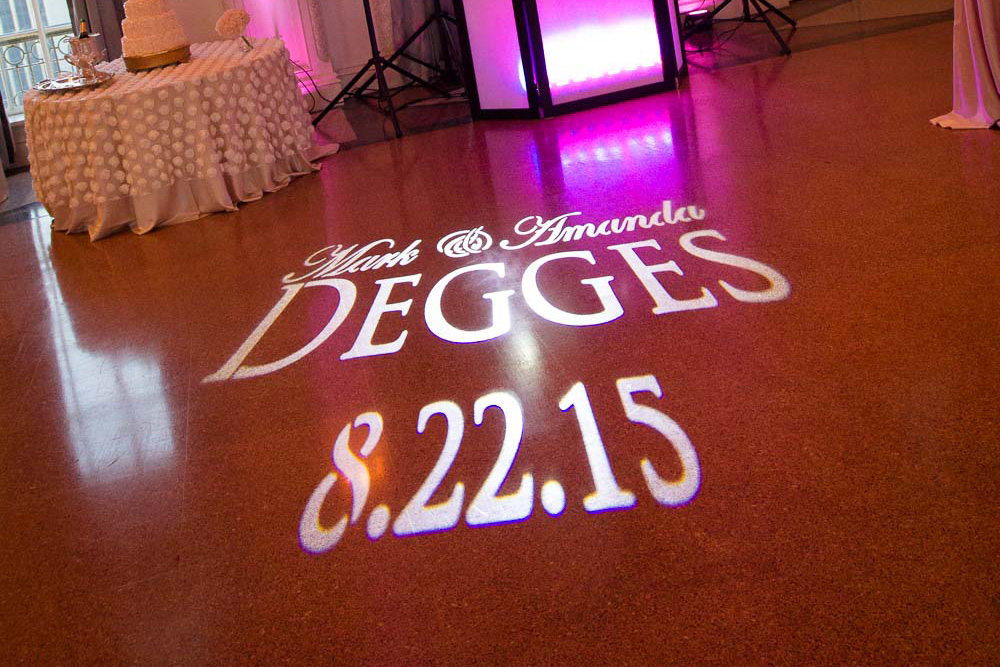 Custom Monogram Packages
Monogram lighting is a great way to add a personalized touch to your wedding or event. A custom projector will put your name, wedding date, special message, logo, artwork, or anything else in lights.
Special Way to Make Your Venue "Pop"

Display on Dance Floor or Wall

I'll Help You Design Your Monogram

Custom Metallic "Keepsake" is Yours to Keep
Watch How Mark and Amanda Added Their Names to the Dance Floor
What is monogram lighting?
Monogram lighting is created using a "gobo" and a special gobo projector. A "gobo" is a small disc that is inserted into a special gobo projector. You can project your monogram, names, wedding date, or anything else onto any surface for a special wedding lighting effect.
How big is the monogram image?
The size of the monogram depends on how close the gobo projector is to your dance floor or wall. The further away the gobo projector is, the larger the projected image will be.
Will the monogram be visible?
For best results, make sure to dim any other lights that are near the area where the gobo will be projected. The darker the room, the better the gobo effect will be.
Will you help us create our monogram?
Absolutely! During the planning process, I will show you example monograms and help you choose a design that is best for your event. You can also send me designs from your own graphic designers to use in your monogram.
THERE'S MORE:
See What Other Enhancements You Can Feature At Your Event!